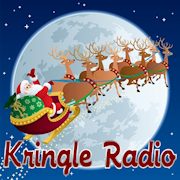 Kringle Radio broadcasts directly from the North Pole. It is year round, commercial free and HD quality radio featuring a unique blend of Christmas music from nearly every available genre.
Broadcasting online for more than a decade the talented elves in Santa's audio engineering department have built a library of thousands of tracks, from seasonal favorites to the obscure and relative unknown of Christmas. There's nothing else like it online.
Kringle Radio supports Santa's Sleigh, a Christmas community outreach program dedicated to helping families in need at Christmas. As a not-for-profit venture, we keep Kringle Radio commercial free through memberships and give all extra proceeds to the annual charitable effort to fill Santa's Sleigh. Plus —
It is Santa's radio station!
Every year, as he climbs into the sleigh for his Christmas ride, he tunes to Kringle Radio and listens to the news of his flight as his makes his way around the world. During an epic 50-hour long world wide radio broadcast the North Pole News Department offers breaking news of Santa, life at the North Pole, and updates from the sleigh as Santa goes around the globe.
<!- Listen: [audio mp3="https://kringleradio.com/wp-content/uploads/2016/11/kringlepromo.mp3"][/audio] -->